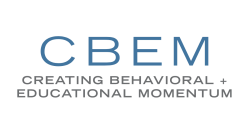 Job Description
ID: 3079.6.21
Department: Clinical
Location: Eureka
What you need to know about CBEM (Creating Behavioral and Educational Momentum):
• We are a growing agency that provides crisis intervention and prevention to persons diagnosed with developmental disabilities through critical case management and crisis hotline services
• We serve persons of varying ages, disabilities, and needs.
• We operate according to our values of excellence, inclusivity, integrity, and service. Our values help our company provide quality services to our clients and promote an enriching work environment.
• We are teamwork oriented and have an open door policy to promote communication and learn from each other.
• We want our employees to grow, not only within the position but also within the company. To accomplish this, we provide orientation trainings, case consultations, and opportunities for promotion.
• To learn more about our company, our mission and values, please visit us at www.cbemllc.com.

Expectations/Duties:
The Critical Intervention Specialist (CIS) manages a caseload of clients in the Humboldt and Del Nortecounties and participates in weekly Clinical and Administrative meetings at our Eureka office.
• Case Management duties: visiting the client and collaborating with circle of support/collateral contacts at least once a week, and daily submission of case notes
• Periodically carry our crisis hotline rotation with the intent of de-escalating the situation and respond in-person during work hours if necessary (typically every 4-5 weeks) or after hours on phone
• Develop Case Reviews and create Stabilization Plans for your client
• Attend client meetings and Regional Center clinics as directed, as well as all workshops, trainings and in-services
• Attend and participate in clinical meetings with community resources (such as Psychiatrists, Social Workers, Physicians, Therapists, etc.)
Qualifications:
Required
• Must have a Master's Degree, preferably in Psychology, Counseling, Special Education, Social Work or a related field.
• Must have a reliable means of transportation and be willing to commute to various settings to meet with circle of support and the identified client (i.e., family homes, Adult Residential Facilities, day programs, schools, hospitals, etc.)
Preferred
• One year experience in mental health providing counseling
• Experience working with persons with Autism and experience utilizing ABA strategies preferred.
Specific Abilities:
• Communicate CBEM's critical intervention philosophy of positive behavioral practice, compassion, and respect
• Strong clinical observational and assessment skills
• Exhibit strong communication skills within a variety of settings (i.e crisis situations, relaying case information, and team interactions)
• Utilize email and text messaging to communicate with the CIS and Administrative team, as well as circle of support.
• Effectively collaborate with professional agencies, CBEM staff, and collateral contacts (i.e., Psychiatrists, Social Workers, Physicians, Therapists, Direct Care staff)
• Work within a Systemic, Strength-based, Person Centered Framework
• Meet time sensitive deadlines as well as weekly billable hour expectations
What we offer our employees:
• A positive, learning, and supportive work environment
• Base salary of $47,500 plus stipends for hotline
• Language differential (if applicable)
• Clinical training & group supervision from licensed Behavioral, Psychological and Psychiatric Consultants to help obtain licensure hours at no extra cost
• Travel and mileage reimbursement
• Excellent clinical training program to all new hires and ongoing professional development
• Company laptopand cell phone
• Competitive employee benefits package
• Health & Wellness Reimbursement program
• Vacation, sick time & leaves of absence, and 11 paid holidays
• Retirement 401k plan with company match after 1 year of full-time employment
We are an Equal Opportunity Employer.
To apply, visit
https://cbemllc.applicantstack.com/x/detail/a24t6khacoux
Copyright ©2017 Jobelephant.com Inc. All rights reserved.

Posted by the FREE value-added recruitment advertising agency
jeid-9ae76df8714f764f9a5de141e3fd5cf8
Preferred Years Of Experience:
1
Year(s)
Education Required:
Masters Degree - MS
Employment/Position Type:
Full Time